How To Visit Our Richmond Prize Home Without Actually Visiting
How To Visit Our Richmond Prize Home Without Actually Visiting
By: yourtown
20 Jul
Blog, yourtown, Prize Homes, Prize Draws
"This really is a special little neighbourhood."
Fallen in love with our Richmond, Melbourne Prize Home? Or perhaps you just wish you could visit it in person, but live too far away.
To help make that decision easier (or perhaps even harder!), our Guestbooker, TMN, has written a review of the home - and it's a must read before you decide!
.....................................
It feels like a private neighbourhood secret…
This really is a special little neighbourhood. Inner Melbourne loves its period homes and you'll find them in abundance and lovingly cared for here.
A delightful, tiny reserve lies at the end of your street and feels like a private neighbourhood secret. This house is blessed by neighbourhood charm while still being in the thick of it all.
The townhouse is one of a block of four on the higher side of gently sloping Hodgson Terrace. There's free, two-hour parking on the street.
I had no trouble getting a park, it feels local and safe, and the City of Yarra will issue a paid permit if you need to park an extra car out there. The street narrows to a single lane at the top and this is where your home lies.
Every detail's been thought through
Number 2A features a grey rendered facade with timber accent details. It's an inner-city space, so it's compact as you'd expect, but every detail's been thought through by architects Adrian Kucyk Design to deliver a space where liveability is first.

The ground floor entrance features a single garage with timber door detail, a tall timber front door with gentle paved ramp entrance, a small awning/roof to protect you from the Melbourne weather while you get your keys out, and a micro front "yard".
The front is partly fenced and contains a clever bin cover made from powder-coated black steel, as well as the utilities access and a little tree.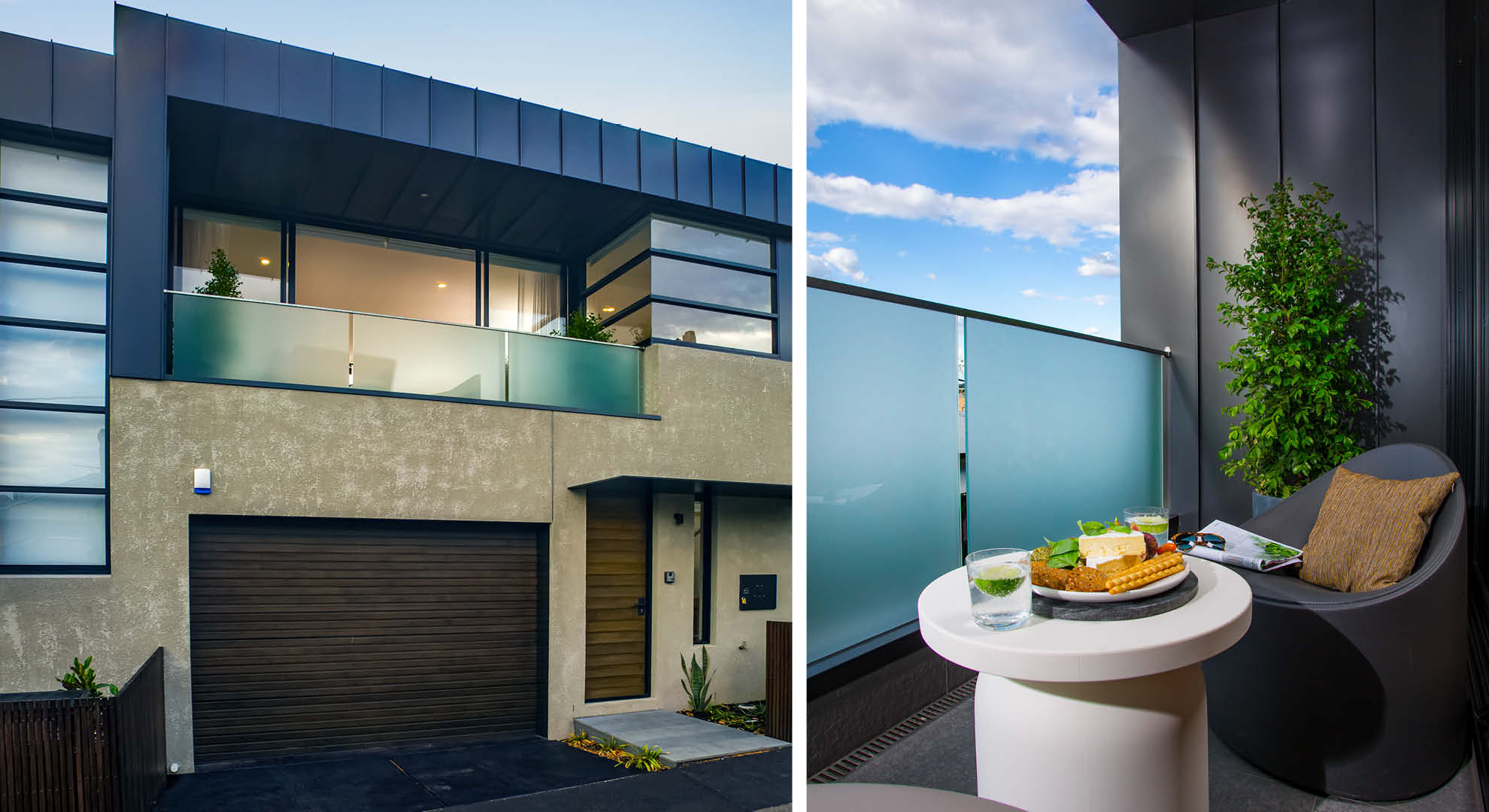 The lower level of the home is given to the private spaces (bedrooms and bathrooms). Heading straight down the hallway you have a locking entry door to the single garage on the left and the family bathroom on the right.
This bath has a shower over the tub and also contains a generous laundry space (for a building of this size). The laundry is behind robe doors and has some good room for storage, a combo washer-dryer and a sink/utility.
Continue down the hallway to the two plush-carpeted bedrooms at the rear, just where you want them for quiet and privacy.
The Master has two robes and a private ensuite with generous walk-in shower; the second bedroom has one robe. The size of these rooms is really well-balanced between space concerns and being able to move comfortably around.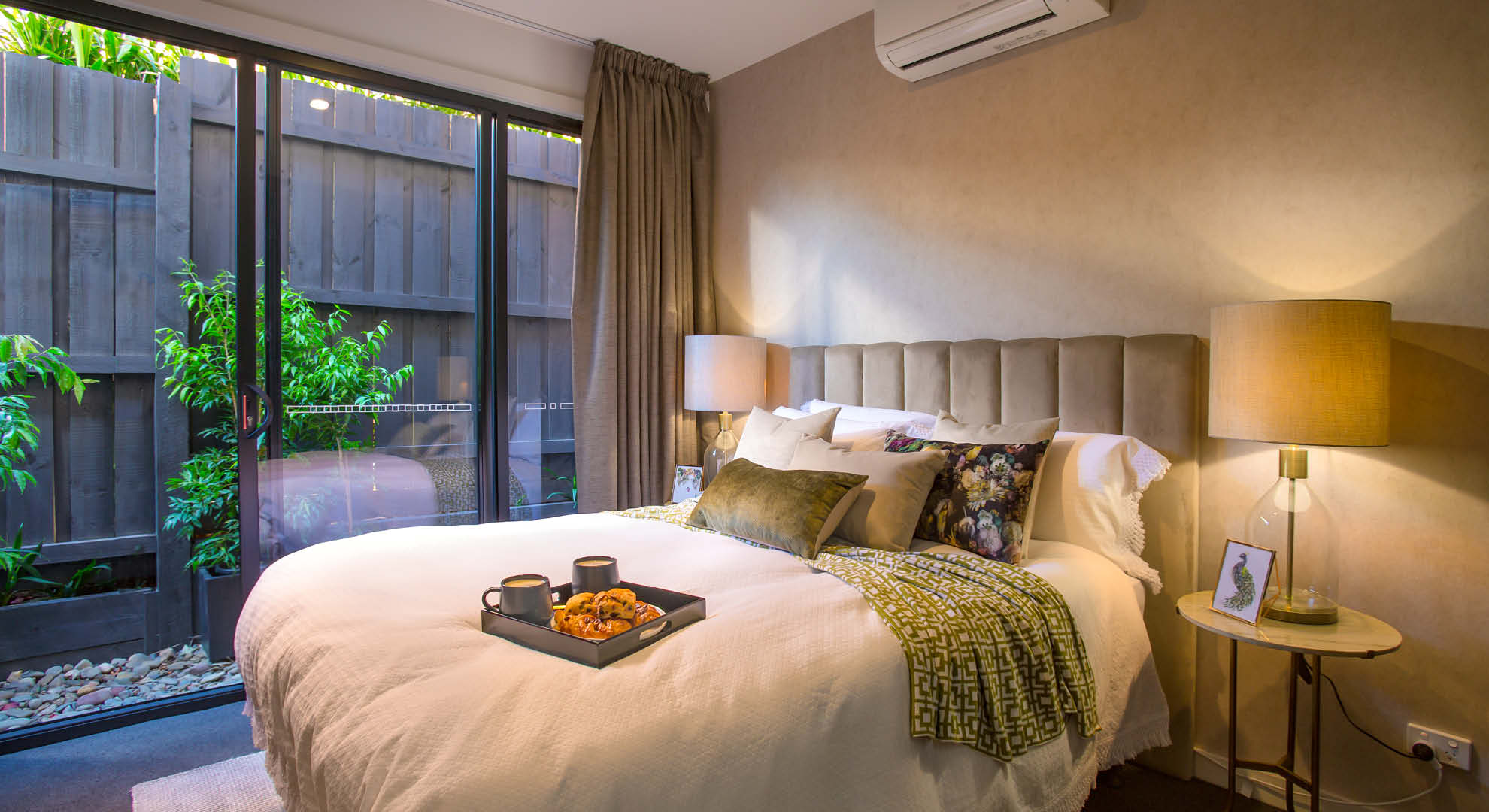 Each bedroom has a sliding door to the rear courtyard, so they have light and air. The courtyard is shallow but big enough for a clothesline and some landscaping.
yourtown has added some potted plants to this area, but I can see planting the right kind of climber out here (Star Jasmine perhaps?) and some ground cover, and it can become a sliver of green oasis.
Its purpose is to provide light and air to the bedrooms which it does amply, and it's perfectly private too.
Back to the front of the house, the crisp, oak-clad staircase has been cleverly designed to capture the north light into the home, with staggered windows following it up and a nib wall arrangement at the top.
This lends a sense of enclosure at the bottom of the stairs then a sense of space opening at the top.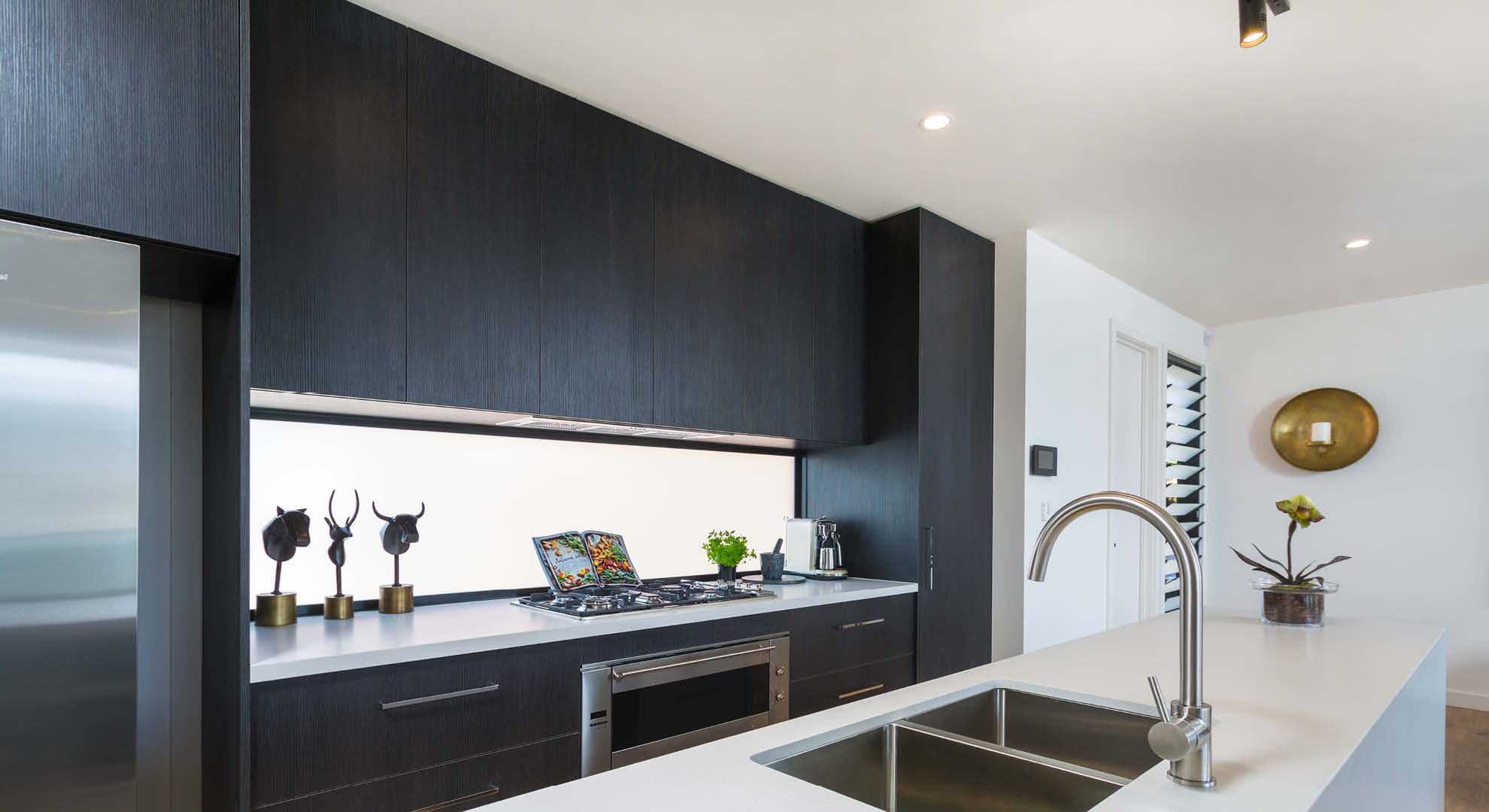 The top floor is the open plan, oak-floored living zone featuring a lovely minimal but luxe-feeling kitchen, living, dining, potential study, powder room and balcony.
Abundant windows to the north (including the ones over the stairs) bring the light right in, and frosted windows facing the south (behind the kitchen backsplash and next to the power room) mean even more light and also cross breezes.
This space is so simple but it's been artfully thought-out
You could swap the living and dining zones with ease, as both are equal in size and open in function. The little area at the top of the stairs is currently occupied by the ticket sales team but has been styled by yourtown with a glass console and lamp.
In this area the architects marked out where a desk can potentially go. On the North side, sliding glass doors open to your balcony where you can gaze across the rooftops of the old workers cottages and the district beyond.
Even if a neighbour were to build up by a floor, your North light is always assured due to the gentle slope and your aspect.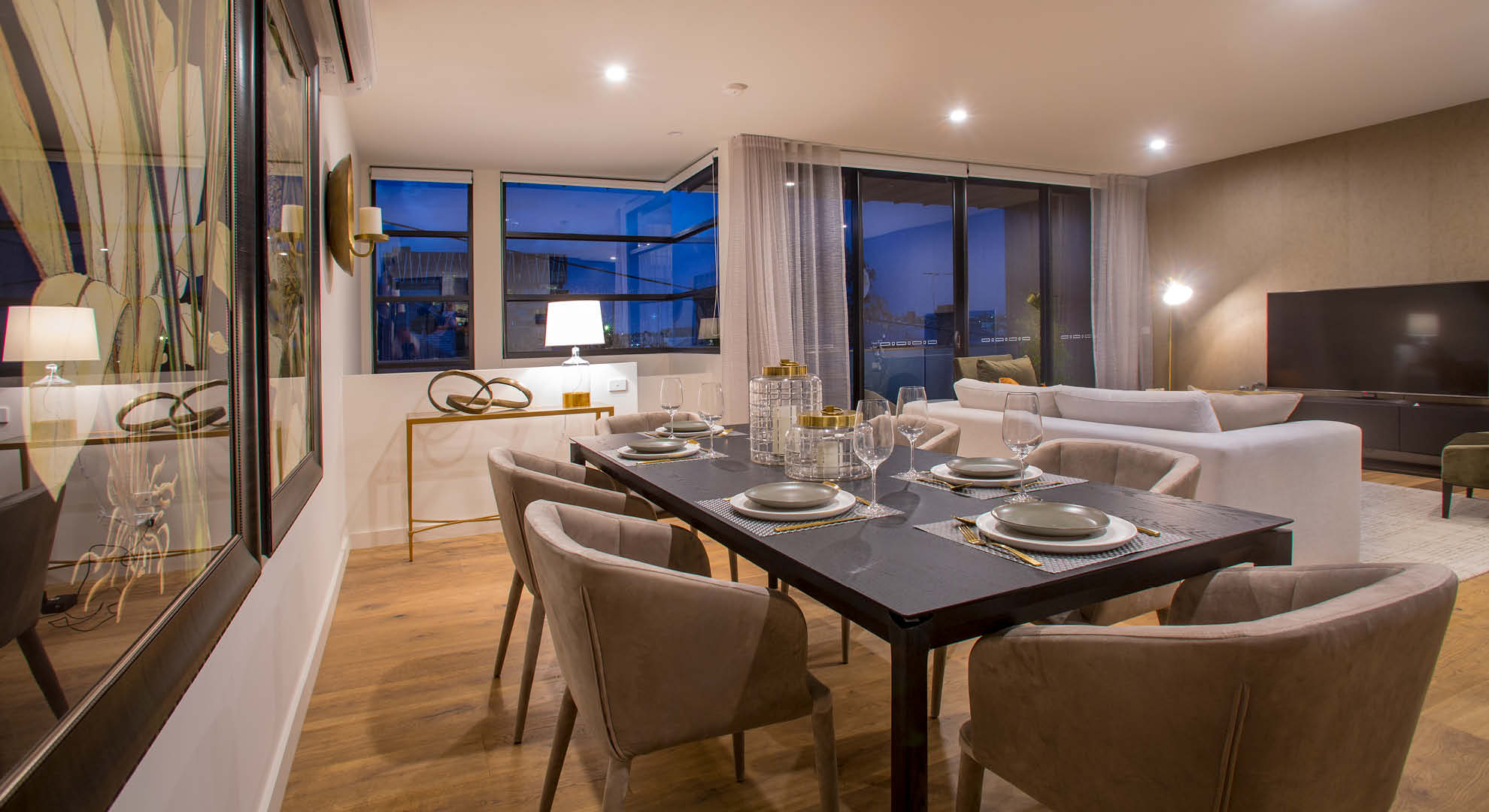 Decor-wise, yourtown have done a cracking job and the home feels lovely and warm wherever you go. "Gold" is the theme, with muted olives and taupes in harmony.
The furnishings feel very 'grown up' with textured wallpapers in the living and master, a very deep and comfortable-looking sofa in the living, and lots of velvet and linen finishes that feel pleasing under the hand.
It just feels like a nice place to be in, a 'home'. The finishes (both architectural and decor) just feel and look good.
Already dreaming about living in our Richmond Prize Home? Don't miss out on your chance to win! This Draw is limited to 380,000 tickets, so you better be quick before they sell out.
About yourtown...
We're a community funded organisation that tackles issues like youth unemployment and mental health, and take on issues like family and domestic violence.
LEARN MORE
Stay in touch
Show your support and get the latest news and updates on our yourtown Australia Facebook page.

LIKE US ON FACEBOOK