Westside BMW gives back to kids in need
Westside BMW gives back to kids in need
By: yourtown
16 Aug
Blog, yourtown, Client Services
It's thanks to our supporters that we're able to continue to build brighter futures for young people.
Supporters like Westside BMW, who have donated $4,000 and 50 bags filled with much-needed personal care items to yourtown.
As part of their 10 year birthday celebrations, the Brisbane luxury car dealer donated $500 from every car sold to help our services, like Kids Helpline.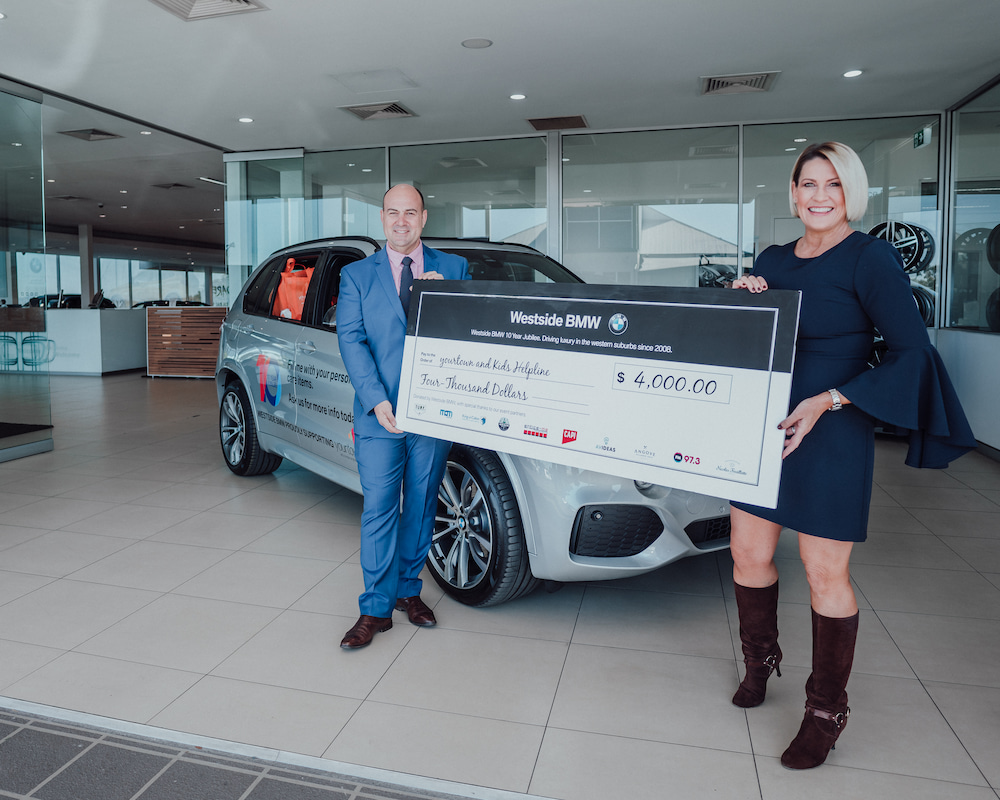 Charity through luxury cars
The luxury car dealership also introduced the Fill a BMW X5 initiative, where local community groups, customers and passers-by were welcome to donate personal care items.
In the end, Westside BMW delivered over 50 bags filled with these much-needed personal care items.
"Kindness and compassion can make all the difference to young people doing it tough," said yourtown Head of Fundraising and Marketing, Tracey Gillinder.
"Many of the young people in our programs can have trouble accessing the most basic personal items like a toothbrush or deodorant.
"On behalf of the children and young people who contact Kids Helpline and take part in our employment, training and other services we thank BMW and the Brisbane community for their kindness and generosity."
"We're delighted to present these funds and items to yourtown and Kids Helpline," said Westside BMW General Manager, Anthony Alafaci.
"There's been great support for the cause across our dealership and wider community, from colleagues, friends and family who have sponsored us.
"It's very encouraging to witness all of the support that our community has given to these children."
A first-time partnership, but not the last
This was the first time that our organisation partnered with Westside BMW, but given its proven success, it certainly won't be the last.
Later this year, Westside BMW aims to raise more funds for yourtown as a part of the Running CEOs Marathon, which takes place on September 8.
A massive thanks to the community for all their donations - we couldn't do what we do without you!
About yourtown...
We're a community funded organisation that tackles issues like youth unemployment and mental health, and take on issues like domestic and family violence.
LEARN MORE
Stay in touch
Show your support and get the latest news and updates on our yourtown Australia Facebook page.

LIKE US ON FACEBOOK